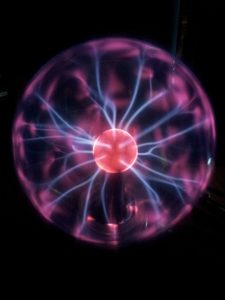 Happy end of the holiday season, and happy New Year! 2015 was an awesome year for us, and we hope you as well. We want to draw your attention to Saturday, January 9th, because it is Static Electricity Day! Here at Bounce N Play in Astoria, New York, we see a lot of static electricity from our young patrons that utilize our inflatables, but have you ever wondered why your hair stands straight up when you are exposed to static electricity? Let's find out!
These two things are largely responsible for this "hair raising" phenomenon. All objects are made up of atoms, the basic unit of a chemical element. Inside these atoms are protons, electrons, and neutrons, all containing a charge. Protons are positively charged, electrons are negatively charged, and neutrons are neutrally charged. Opposites attract each other, therefore positive will attract negative, and repel like charges. When the amount of positive and negative charges are balanced, it makes that object neutral.
When there is an imbalance between positive and negative charges in an object, the result is static electricity! When you transfer electrons, one of two things can happen. Either you will get an electric shock (a surplus of electrons being released) or your hair will stand straight up! This is simply because like charges repel each other, so electrons from our inflatables are transferred to you will stand straight up because they are trying to get away from each other! Neat, huh?
It is absolutely harmless, and a lot of fun to see your children and their friends be mesmerized by the scientific phenomenon so come experience it for yourself! We are located at: 20-21 Steinway Street in Astoria, New York 11105.