When it comes to group outings in Astoria, NY, there is no better dest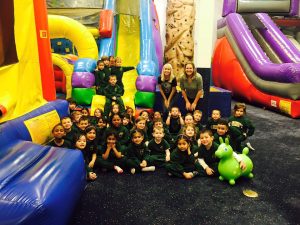 ination for fun than Bounce N Play! Rounding up a group for a fun outing can often be a costly venture, but when you visit us in numbers you save in cash! Our facility is a safe, clean, and welcoming environment that is sure to have your group begging to come back as soon as possible. Find out everything you need to know about our group packages.
During school hours (on a non-holiday), we love to have group organizations come in and play. These groups can include:
School organizations

Church organizations

Sports teams

Special needs organizations

And more! (Keep in mind, these are for organizations only).
Here is a price breakdown based on number of kids! The price is per child. (Non-Holiday)
Is your group over 30 kids? Great! That means you will enjoy having the entire facility to yourself! This will give you and your group the feeling of a private party. Having the run of the facility will surely be an experience you won't soon forget. 
Need to schedule a group outing in a hurry? No problem! You can schedule as little as the day before your event. We, however, recommend booking your group event ahead of time to give yourself more time for planning. About 3 weeks to a month ahead of time is a great time frame to secure a spot. Contact us, and let us know of any question you might have!