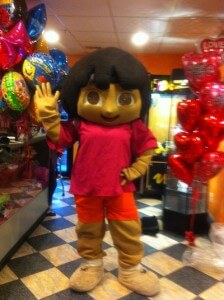 At Bounce N Play in Astoria, New York, we love to see the smiling faces of all of the children who have their birthday parties with us. We try to make throwing the party as simple and as streamlined as it can be, which you know if you have ever had your child's party with us. We try to make it super easy for parents by having several party options to choose from including: weekday parties, basic, deluxe, and premium private parties, but what we want to talk about are the special things that make your child's party extra special.
With us, your child can have the custom party he or she has always wanted! Some of our party extras will make your party space look even more festive, like our helium or mylar balloons, balloon centerpieces, bouquet of balloons, or our table skirt, while others just give it that special touch like our goodie bags, or delicious cake. Your child will feel like a ROCK star with our indoor rock climbing wall and glitter tattoos, or like an awesome pirate with our sword made out of a balloon. Everyone loves cotton candy, and your child's party guests can have that too, as they are entertained by our special characters! When your child does not want to leave because he or she is having the time of his or her life, we have a solution for that too! We offer an extra hour or half hour and an extra 100 tokens, so the game play can continue!
Your child only has a birthday once a year. Why not make it extra special? Ask about our Extras when you book your child's next party at Bounce N Play!