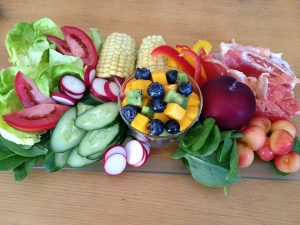 Running, jumping, bouncing: it is all a great way for little ones to get some great exercise! Exercise is one way to stay healthy and fit but also establish great lifestyle choices for the future. At Bounce N Play New York, we love to see our young guests embracing exercise and all it has to offer, but we also understand it is only one part of the equation. Establishing healthy lifestyle goals is a two part system that involves both regular exercise, as well as healthy eating. This can be a bit tricky, especially for the very young ones whose palates are not quite as developed yet. Let Bounce N Play help you with some tips and tricks for getting your young ones to eat healthier, even if they do not know it!
Sneaky Sauce

Researchers have found that children are less likely to notice if veggies are pureed and combined with pasta sauce! Freeze or buy frozen broccoli and cauliflower and puree it. Combine it with your regular pasta sauce and your kids will probably not notice! This is a great way to get them to eat more of the good veggies they need to support their growing bodies!
A Fruity Drink
Fruit smoothies are another fantastic way to up your child's fruit intake. Combine a variety of fruit (none that appear green) with almond or soy milk for a deliciously fruity treat! It can be used as a dessert or as a snack!
While it may seem difficult to get your kiddos to eat healthy now, their palates are still developing, so introducing them to fruits and veggies as they grow is a good idea. You want your child to like healthy choices, therefore encourage them to try a bite every time you make a new vegetable, and not always sneak it into food they know they like. Soon, they will be requesting and gobbling up all the veggies you put in front of them!