Most adults know how important exercise is for their overall health. There are not only weight loss benefits, but improved stamina, memory, and a better outlook on life. What some adults may not realize is just how important exercise is for their children.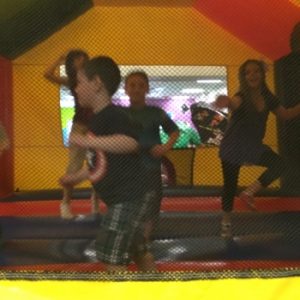 A study by kidshealth.org showed that kids who exercise regularly will have "stronger muscles and bones, a leaner body as exercise will help control body fat, they will be less likely to become overweight in the future, have a decreased rick of developing type 2 diabetes, have lower blood pressure and cholesterol levels, and an improved outlook on life."
At Bounce N Play in Astoria, New York, we completely agree with these statistics, and want to help combat the epidemic of childhood obesity and depression. Our bounce house and various inflatables will make for a fun time for kids of all ages, and we are reasonably priced. We often offer special rates and special activities, so your children will not even know they are exercising! We make exercise fun for them, and stress-free for you.
Do your kids prefer some other activity to bouncing? We have a variety of options including our rock climbing wall, jungle gym, dancing, and games that can strengthen the heart all while becoming healthy! We also welcome your child on their birthday, so all of their friends can experience health benefits of our inflatables too. We have healthy food options for your child's party, such as our veggie tray that serves about fifteen people, and various entrees that serve up to 15 people as well.

So, stop on by and let your kids bounce and play.They will be becoming healthier without even knowing it!