One of the problems with many bounce houses and other indoor "kiddie-type" establishments is that once a child gets to be about seven years old, they have often outgrown or become uninterested in these types of offerings. For a seven year old, it may be a bit elaborate to take them to a concert, where ticket prices can go well into the hundreds of dollars, so what do you do? Bounce N Play New York has a solution: come see us!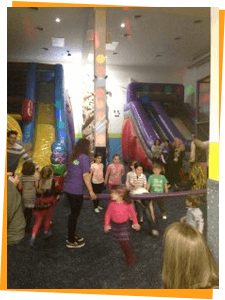 Unlike most indoor play centers in the area, Bounce N Play has something for just about everyone, including tweens, teens, and yes, even parents! Our 6,000 square foot romper room features bounce houses that are open to all ages, as well as inflatable slides, and a 20-foot rock climbing wall. We are also proud to have been featured in New York Magazine's "The Best of New York" edition in March of 2015, which was a huge honor. The critically acclaimed magazine has been around since the early 1960's and had a circulation of over 400,000 in 2013.
Our recent guests seem to enjoy our facility just as much as the critics! Check out what Sally C. said in January.
"I enjoy coming here for open play and private parties…this is a good local option." ~Sally C.
So, to see for yourself why New York Magazine, and countless happy families rave about us, stop by! Call for our hours: (718) 726-9026, and do not forget to stay up-to-date on the latest to LIKE our Facebook, Twitter, and Google+ pages.