Make Bounce N Play your next stop for a group outing!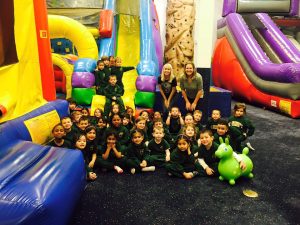 During school hours (on a non-holiday), we love to have group organizations come in and play. These groups can include:
School organizations
Church organizations
Sports teams
Special needs organizations
And more! (Keep in mind, these are for organizations only).
Here is a price breakdown based on number of kids! The price is per child.
For any groups over 25 kids, you will have the entire facility to yourself! That way you feel like you're having your own private party, and it's personalized for you.
You can schedule as little as the day before, however we recommend booking your group event ahead of time! About 3 weeks to a month ahead of time is a great time frame to secure a spot. Give us a call at (718) 777-7529 to tell us about your group event.